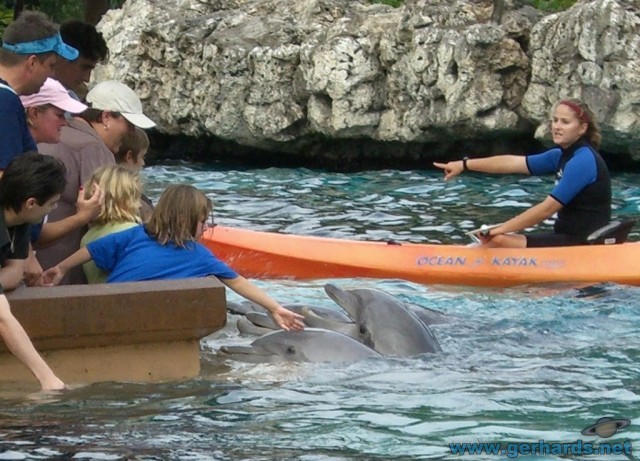 Do you like Dolphins? Then SeaWorld Orlando offers the right attraction for you!
It has the so-called dolphin lagoon. There you can view dolphins really close, plus you can pet them if they happen to swim along (what they do quite frequently, because they like to play).
But it can get even better: typically, at least twice a day there is dolphin feeding time. During that event,
visitors are permitted to feed the dolphins themselves.
And, of course, if the dolphin is close to you and permits it, you may also touch your animal friend. Dolphins learn quickly, so they know that the key to getting as much food as possible is to get close to the visitor and allow some interaction. Consequently, chances are almost 100% to get in close contact with one! Situations like in the picture above are very frequent. Please note that I took the picture during one of my visits, so it is not a SeaWorld promo thing just the real thing any visitor can experience.
So how does all of this work? You basic ticket includes admission to the dolphin lagoon. However, it does not include any dolphin food.
So you need to spend some extra money to get the bait. At the time of my last visit in October 2007, a tray with 3 fish was $5. Not really cheap, but still quite affordable and worth the money. If you are a real dolphin-lover, you can purchase as much trays as you like. The length of the feeding event is determined not by time but by available food. For each feeding time, a specific amount of food is for purchase. Its plenty, but if it is sold out (and fed ;)), the event ends.
There are always long lines at the food booth. Plan ahead: when entering SeaWorld, check on feeding times.
If your fun schedule allows, be a few minutes early to avoid the longest line. On slow days, you may prefer the opposite: arrive late when the line has shrunk. End of October 2007 I managed to almost go instantly to the booth. However, on busy days do NOT use that strategy: dolphin food may be sold out before you even make it close to the booth.
After you have purchased the food, proceed to the feeding area.
Beware of the birds -- they too often get their share from the dolphin food.
Hide it and make sure that you do not put fish higher than necessary above the water level. The birds are really quick and are aggressive, don't give them a chance.
Finally,
follow the instructions of the trainers that are present in the feeding area
. Of course, this is important for animal safety. But you will also have an even better rewarding experience if you follow their advise.
One tip about taking photos.
SeaWorld's professional photographers will conserve the best moments. Unfortunately, purchasing these photos is quite expensive. So if there are more in your party, you may want to take the shot yourself. To do so, it is best that one taking photos goes to the opposite border of the dolphin lagoon. There is a great spot close to the food booth. It is often vacated, as you can not feed dolphins from there. Use a good zoom lens for best results. If you do not have a good zoom, you may prefer to get a spot closer to the person feeding. In any case, do not stand directly at the side, as you will not get any good shots from that position (I know it, I made that mistake in the beginning ;)).
And now ... have fun!
Note: there is also a similar German article on our sister site: Delfine füttern in SeaWorld, Orlando, Florida